Description
A collection of protoboard designs, all ready-to-order via your favourite PCB manufacturer.
Boards in the collection:
Breadboard-compatible - all with power rails on both sides as well as extra holes and pads for connecting power:

Small (15 rows of 2x5 points)
Medium (30 rows of 2x5 points)
Large (60 rows of 2x5 points) in two variants: a) with continuous power rails, b) with power rails split halfway

A stripboard with an exotic strip layout (to allow clever layouts with minimal amount of extra soldering) and power rails spanning the entire board.
Arduino UNO-compatible protoshield in two variants:

Plain (just a grind of holes)
With power rails running down the middle and two easy options of connecting power to VCC (either via pin jumpers on top or solder jumpers on bottom).
Documents
Protoboard - quarter-sized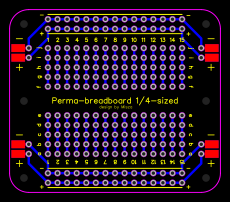 Protoboard - half-sized
Protoboard - full-sized
Protoboard - full-sized (split rails)
Stripboard
Arduino UNO R3 protoshield
Arduino UNO R3 protoshield (with rails)
Raspberry Pi Zero protoshield